Meeting Schedule
Oct. 7, Saturday: The September District 5 Meeting will be held at Noon at Big D's on the Hill 2139 S. 34th ST. Kansas City,Kansas.
For more information contact Tony @ 913-706-8449 or Debbie @ 913-909-2131
Meeting open to the public (need not be a member).
---
2023 ABATE LABOR DAY RALLY BIKE GAME
WINNERS
All names as we can interpret the handwriting
GAME: FIRST PLACE – SECOND PLACE
SLOW RACE: Kyle Ricci – A.J. Lemos
TRIKE KEG PUSH: Leroy W. – Jamez
POTATO PICK-UP: Derik & Jessie – Duke & Kimmie
KEG PUSH: Duke – Evan Bertholf
TIRE TOSS: Tank & ??? – Cliff & ???
WEENIE BITE: Tank & ???? – Derik & Jessie
BALLOON TOSS: Andrew & Tank – Richard & Lindsey
TIRE DRAG: Dirty & ??? – Kyle & Austin
Thanks to all who participated and watched. We are just trying to have a good time.
Thanks to all those who helped during the games by judging and setting up between events.
Hot day, we would have all appreciated sitting in the shade somewhere or air conditioning. But
you were there when we needed you.
2023 BIKE SHOW WINNERS
All names were listed as best we could figure out the handwriting.
CLASS: FIRST – SECOND
ANTIQUE: David Loomis #22 – J.R. St.Clare #16
RAT: Hailey Spurlock #31 – Jake W. Riley #12
CRUISER: Dustin Roy #34 – Dylan Riley #26
DRAG/RACE BIKE: Sean Spurlock #72 – Jared Morey #35
SPORT/DUAL SPORT: Andrew Rose #27
TOURING: Hammer #23 – Shawn Schattily #18
TRIKE: Lonnie Blum #5 – Angela Gitchel #11
CLASSIC: Mark Larsen #21 – Sean Spurlock #32
WOMAN RIDER: Bambi Beebe #3 – Marion Riley #24
BUILDERS: Jim Pamp #33 – Dylan Riley #13
MINI-BIKE: Lori Dyke #10 – Bill Saric #9
PEOPLES CHOICE: David Loomis #22 – Jason Farr #6
BEST OF SHOW
Brad Morris #20
---
Motorcycle Awareness License Plate
Get a Motorcycle Awareness License Plate from the District. License plates are available for sale at the next meeting or email your interest to [email protected]. Yes, credit card payment is accepted.
---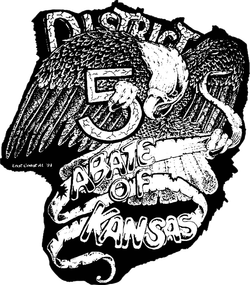 About ABATE Of Kansas – District 5
ABATE of Kansas, Inc. is a political action organization which advocates for the interests of motorcyclists in Kansas. District 5 is organized to represent Wyandotte, Johnson, Miami and Linn counties.
District 5 conducts monthly meetings that are open to the public. Meetings are typically held on the first Saturday or Sunday in the month at noon. Please check this web site for specifics because meeting locations rotate. Check the above information and subscribe to our blog below for email updates. September meeting is held outside the District at the ABATE of Kansas Labor Day Rally site.
---
Stay Informed! Get Involved!
Online membership link from ABATE of Kansas, please press here.
Subscribe via Email
Receive direct updates to your inbox with District 5 things. Follow our blog and receive an email with every new post. Please subscribe and stay informed: scroll down to the bottom of this page, enter your email address and press the subscribe button.
Facebook
Like us on Facebook to be kept up to date on all things District 5!
https://www.facebook.com/ABATE-of-Kansas-District-5-276753914048
State of Kansas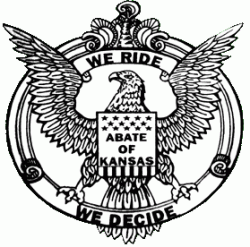 Web site: ​​http://www.abateks.org/
Visit the website and get in on the monthly 50/50 raffle.